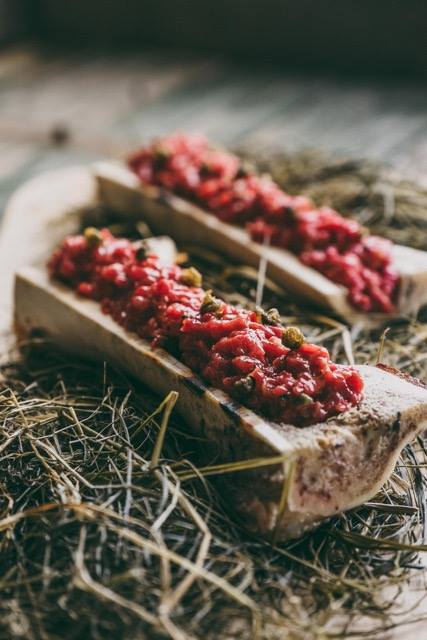 Provisions
600g bavette / flank steak
2 egg yolks
1 shallot
1 tbsp mustard
tabasco
2 tbsp English sauce
coarse salt
parsley
pepper
2 tbsp capers
olive oil
4 marrowbones (cut lengthwise)
beef broth
Our recipe
A summer dish with the best of beef: that is our tartare of the very best beef with velvety marrow. A symphony of unparalleled quality and flavour with a richness and fullness that will make your mouth water. A sublime dish that embodies the perfection of summer.
For tartare, I personally prefer bavette, it has a rich flavour and a beautiful texture. You have a bite, something to chew on. It is juicy and fibrous meat. To add fat and flavour, you can use some grilled marrow. A small detail that makes a big difference.
Preparation
Cutting tartare from bavette:
First cut the meat in pieces along the thread
Cut the meat into slices against the thread
Lay the slices on top op each other and cut into trips along the thread
Finally, cut into cubes
Assemble the tartare:
Boil the marrow pipes in the broth for 20 minutes.
Remove from the broth, spoon the marrow from the pipes and let it cool off.
Grill the marrow pipes for four minutes on the barbecue or in the oven.
Peel the shallot. Finely chop the shallot, capers and parsley.
Mix the meat with the marrow, egg yolks, chopped shallot, mustard and parsley.
Finishing touch:
Season with English sauce, pepper, salt, olive oil and Tabasco. Spoon the tartare into the marrows and top with the capers.
---
0 comments
---