2048
Let's celebrate our dad's!
Especially for Father's Day, this week we are giving a 6-pack of Raymond free with the Ultimate BBQ Box! So you can taste our new refreshing beer made according to the traditional brewing art in collaboration with Brouwerij Van Steenberge. An ode by Hendrik to the man from whom he learned everything, his father.
This BBQ Box contains everything you need to make your BBQ a success. Each pack serves 4 to 5 people:
Marinated chicken fillet - 300 g
Côte à l'os - 1000 g
Pluma - 300 g
Merguez - 350 g
Rack of lamb 450 g
Short ribs with glaze 300 g
+ 125gr Fleur de sel by Dierendonck -> Unfortunately, these are sold out so we are temporarily providing The Butcher's Sauce.
*This promotion is valid while supplies last and is webshop exclusive.
---
What our customer say
Klantenreviews
Schrijf een review
Stel een vraag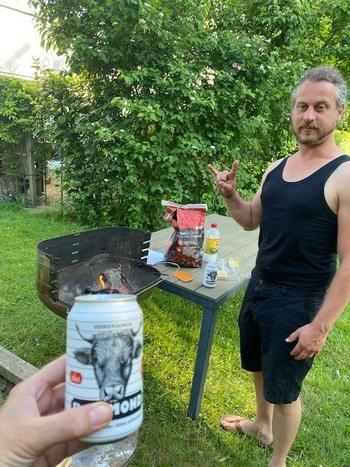 06-22-2021
heel lekker vlees met een duidelijke beschrijving hoe het vlees te bakken.
Heerlijk duurzaam vlees en dat smaak je op de bbq. Er zit ook een blad bij met een duidelijke omschrijving hoe je het vlees best bakt. En de gratis flesjes bier smaakten er lekker bij!
Katrijn Z.

Belgium
05-18-2021
om te beginnen heel mooi en goed verpakt en perfect op tijd .
Alles was zeer lekker en zeer vers , puur vlees . We zijn bbq mensen en hebben genoten van deze box .
Rudy T.

Belgium
09-20-2021
Super lekker!
De hoeveelheid was ruim voldoende! Perfecte levering en zeer verzorgd!
Jessika D.

Belgium
08-22-2021
Heerlijk!
Even kort op de grill, lang genieten.
Maarten B.

Belgium
06-22-2021
Super lekker !
Heel veelzijdig barbecuepakket, gewoon top.
Johan M.

Belgium
06-21-2021
holstein was uitzonderlijk lekker
Toffe box met goede variatie. Ideaal voor feestje
Ivan V.

Belgium