Ragù with fennel and ceci est passata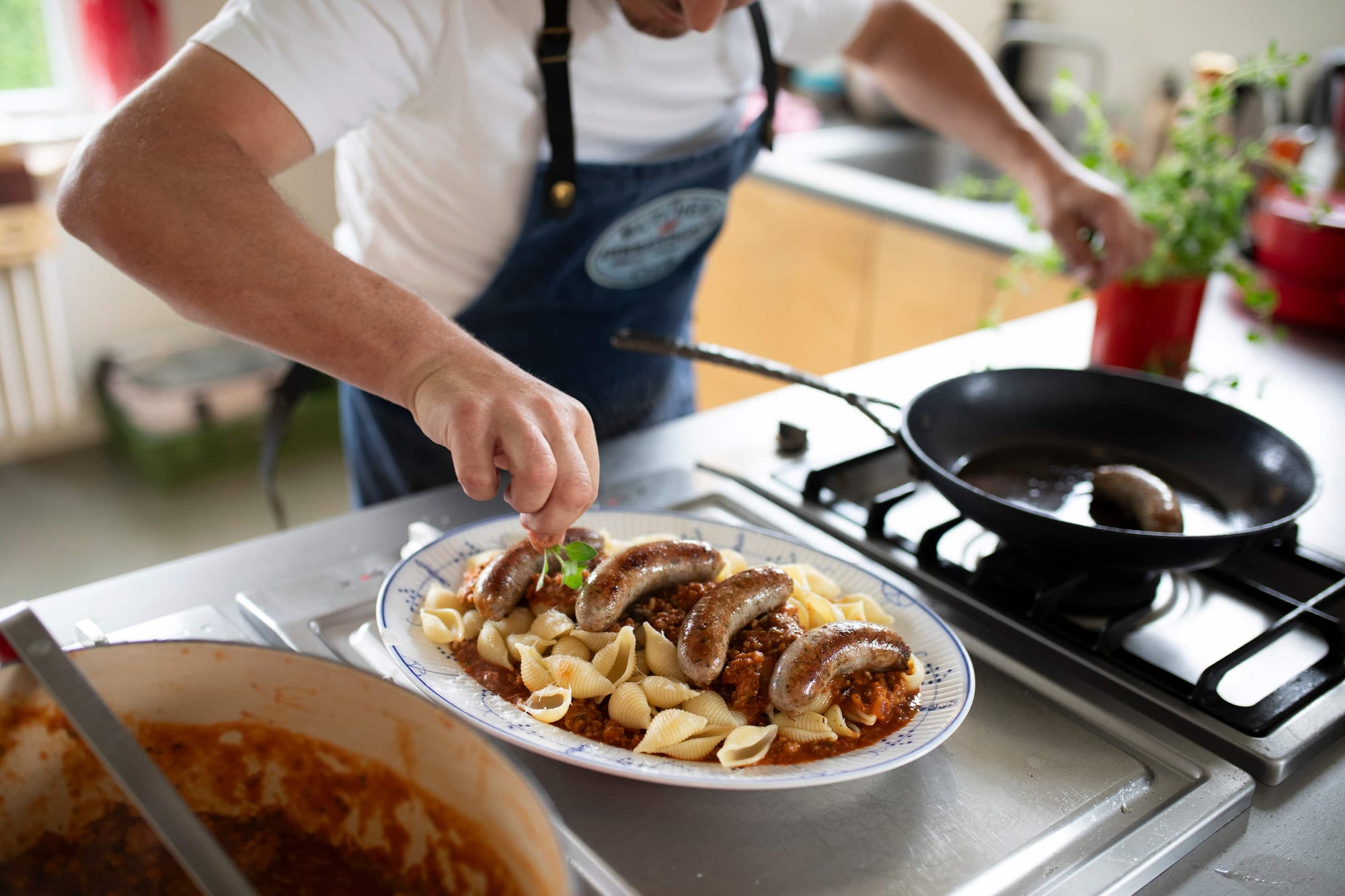 Requirements
Ingredients for 8 people
1 kg minced beef or Dolce Vita sausage
85 g black olives, pitted and sliced
750 ml ceci est passata
1 kg pasta
2 shallots
fresh garlic
fennel seeds and ground fennel
pepper and salt
thyme
wild basil
olive oil
butter
garum (a fermented sauce made from bones, skin and other offal) from West Flemish Red or OXO
extra: Dolce Vita sausage or extra minced meat to finish
tabasco
Quality food costs more than industrially produced food, because it is made completely differently and is therefore a completely different, more flavorful product. My meat comes from animals that lived longer - which cost the farmer more - and that was processed the old-fashioned way with a lot of manual labor. I've been spreading that message for 20 years now. And just when you get tired of it yourself, you have to keep telling it, because that's when people really learn to understand it. The guys from "ceci est passata," they understand.
Read the blog about our collaboration here.
Our recipe
Ceci est Passata is the result of the collaboration between Dries Delanote, of the farm Monde de Mille Couleurs and Steven Desair of the non-profit organization Eatmosphere, a Brussels food lab that experiments around making our food system more sustainable. And the result is impressive. A passata appreciated by great chefs such as Nicolas Decloedt and Willem Hiele. A pure product consisting of only four ingredients: 100% organic tomatoes, salt, olive oil and basil. A product that I am happy to put my shoulders to the wheel, because it fits perfectly with the philosophy I also stand behind: an honest, pure and short-chain product. And that's why I put it on the menu at Carcasse and in every Dierendonck establishment.
You don't have to do much more with it to put a delicious meal on the table, just add your own touch. I did the same for my recipe of ragù with fennel and this delicious passata. An ideal recipe if you want to cook for several days or a large group.
Preparation
Peel the shallots and chop them into small pieces. Also finely chop the garlic.
Sauté the shallots and garlic in olive oil and butter over medium heat. Stir frequently and do not let them burn!
Mix the minced meat with the fennel herbs or squeeze the minced meat from the Dolce Vita sausages.
Fry the minced meat golden brown in olive oil and season with salt and pepper.
Add the ceci est passata, shallot and garlic and simmer on low heat for an hour.
Finish with some garum or OXO, the olives and any fresh, coarsely chopped herbs. Season with additional pepper, salt and Tabasco.
Cook your pasta al dente according to instructions on the package, drain and let it simmer in your sauce for another hour.
Finishing touch
Fry some more Dolce Vita sausages to finish and serve with fresh basil leaves.
ceci est passata is available in limited quantities at all Dierendonck locations and at www.passata.be.
---
0 comments
---