2048
1773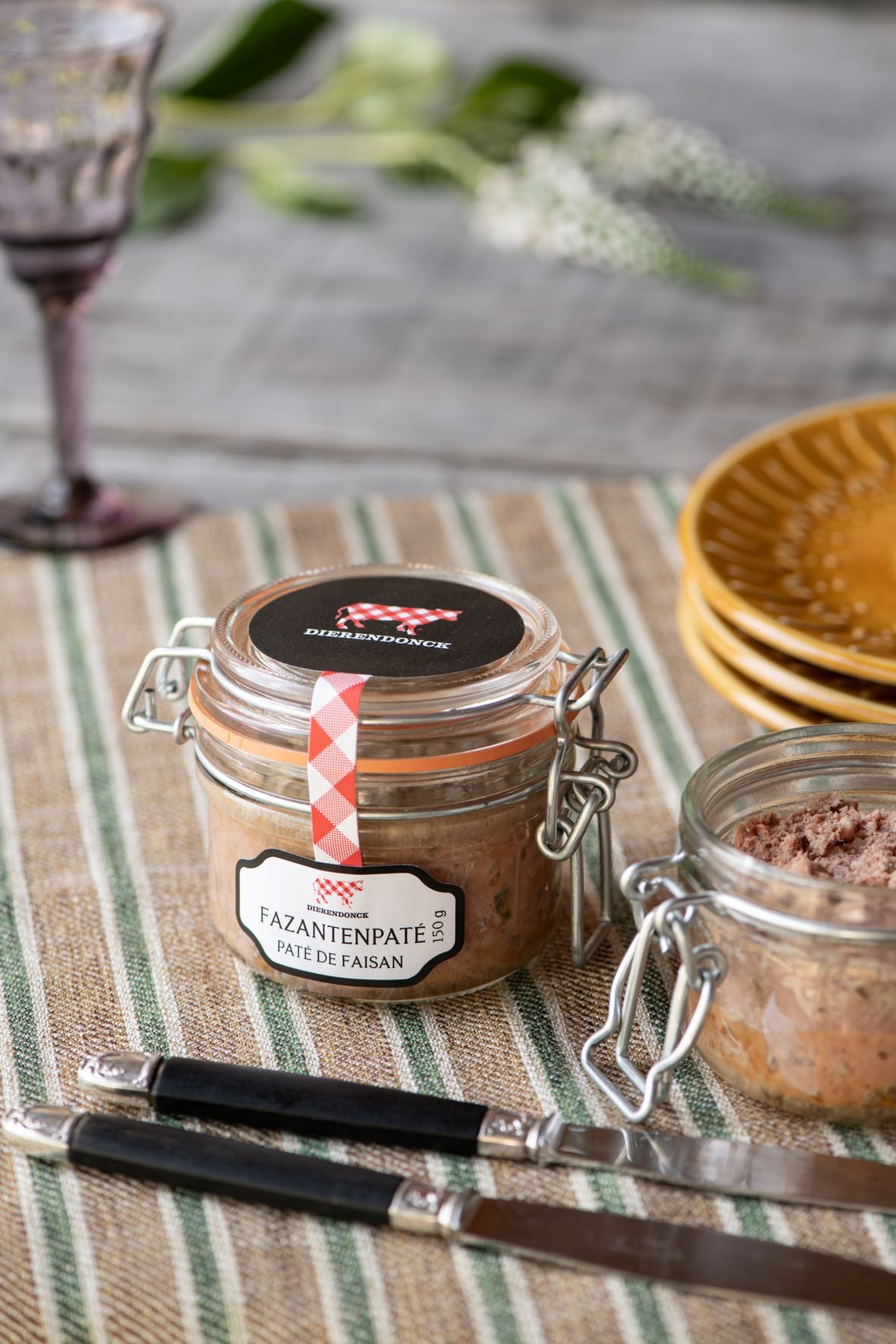 Our pheasant game pâté, an artisanal creation that builds on the old master traditions of father Raymond and is now proudly continued by Hendrik.
The secret behind the unmistakable taste of our pheasant pâté lies in the classic preparation method and the choice of ingredients of the highest quality. What sets this game pâté apart is its mild, elegant flavour. Pheasant meat is refined with white wine, resulting in a pâté that is both refined and delicate. Every bite is an ode to the subtlety of nature and the art of craftsmanship.
Our game pâtés come in a beautiful, resealable glass jar that not only keeps the pâté fresh, but is also reusable for other culinary creations.
Weight:
150 gr
Complete your meal
Ingredients:
pheasant meat (38%), pork meat (28%), pork liver (16%), pork fat (5%), chicken liver, vegetables (CELERI), water, salt, EGGS, milk, white wine, rice starch, herbs & spices (CELERI, MUSTARD), CREAM, port, brandy, olive oil, vinegar, preservative (sodium nitrite), dextrose, spice extract (CELERI), sugar, flavor, vanilla, emulsifier (sodium pyrophosphate), antioxidant (ascorbic acid, sodium ascorbate), coloring agent (turmeric, ammonia caramel), yeast extract, vegetable powders (onion, leek), vegetable oil, food acid (citric acid, sodium citrate), natural flavor, white wine vinegar, sulfite, mandarin distillate.
Nutritional value per 100gr:
| | |
| --- | --- |
| Energy | 791 kJ / 190 kcal |
| Fat | 12,5 gr |
| Saturated fat | 5,1 gr |
| Carbohydrates | 0,61 gr |
| Sugars | 0,4 gr |
| Protein | 18,4 gr |
| Salt | 1,0 gr |
Articles about this product
What our customer say
Klantenreviews
Schrijf een review
Stel een vraag
12-31-2021
Super lekker. Spijtig dat er in Hasselt geen beenhouwerij is. Mvg Liliane
Liliane T.

Belgium