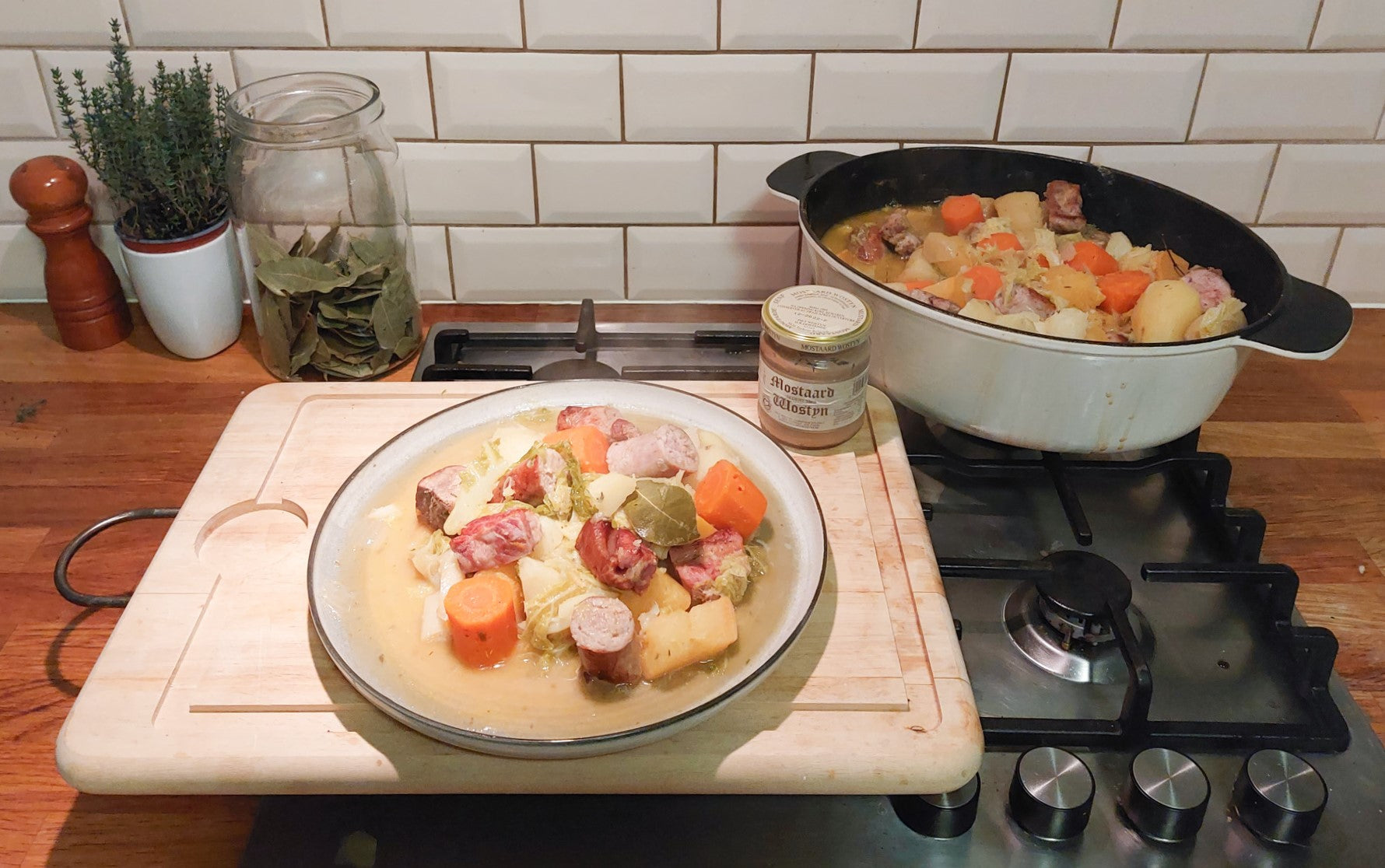 -split-item-benodigdheden-
Requirements
For 4 people
1/2 green cabbage

3 carrots

6 potatoes

3 turnips

2 onions

1 leek

1 spring of fresh thyme

salt & pepper

2L vegetable stock

1 bay leaf

2 old-school pork sausage

200gr home-smoked bacon

300gr pork collar cutlet
-split-item-bereidwijze-
Our recipe
Who can forget the smell of a freshly made stew? As a child, I came home after school on cold winter days and my mother already had the pot simmering on the fire. Simple cooking: winter vegetables, smelt, bacon and sausage. That's all it should be. I like to pass on the recipe, because our children deserve just the same!
Preparation
Cut the onions,carrots, turnips and leek into +- 3cm pieces

Peel the potatoes and cut into large pieces

Cut the green cabbage into fine strips

Cut the cutlet and bacon into pieces

Fry the bacon and the pieces of cutlet until golden brown.

Remove the fried meat from your pot and stew the vegetables and onions for 5min in the meat's baking. Season with salt and pepper. Add the vegetable stock, thyme sprig, bay leaf and potatoes.

Spoon the meat back into the vegetables.

Bring to a boil and simmer uncovered over low heat for an hour and a half.

Fry the sausages. Cut them into pieces and mix into stew at the end. Remove the bay leaf and thyme sprig.
---
2 comments
---