Kefta with kohlrabi salad and yoghurt-mint sauce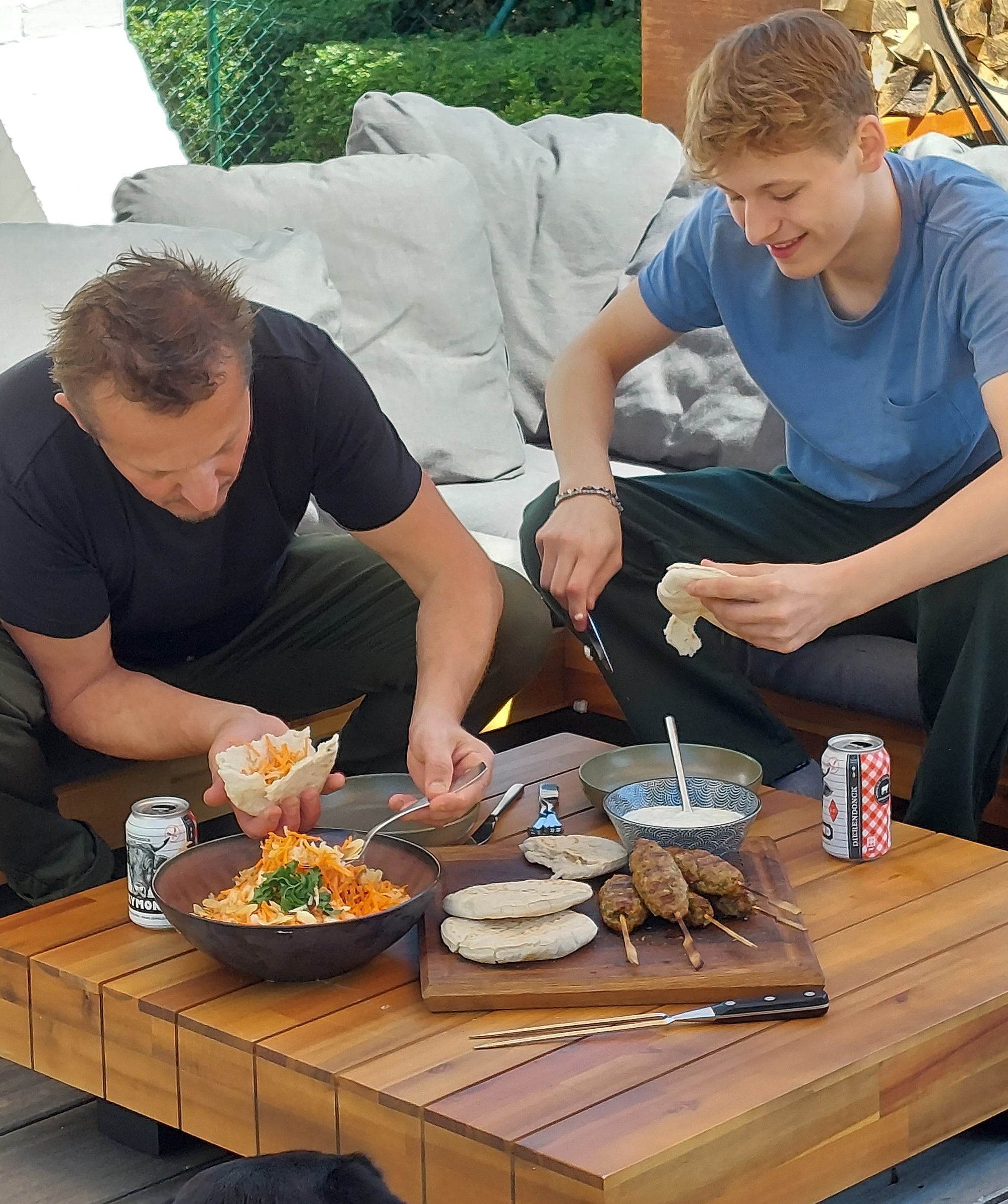 Requirements
For the kefta
minced lamb - 1 kg
leaf parsley
salt - 16gr
black pepper - 5 gr
red pepper - 1 piece
Spices & Rubs - Oriental Boogie - 40 gr
For the salad
kohlrabi - 1piece
carrots - 2 pieces
roasted almonds - 50 gr
leaf parsley
lime - 1/2 piece
For the yoghurt-mint sauce
greek yoghurt - 200 gr
fresh mint
lime - 1/2 piece
fresh garlic
liquid honey or agave syrup
Our recipe
Enjoy a tasty and filling lunch with my son's favourite meal: kefta made of juicy minced lamb, served with a refreshing salad and a delicious yoghurt-mint sauce. For me, this lunch is not only a culinary delight, but also a moment of quality-time with my son. Together, we share this delicious bite while talking, laughing and enjoying each other's company.
The combination of spicy minced lamb, crunchy salad and the creamy sauce creates a harmonious interplay of flavours and textures. It is a dish that connects us and can be enjoyed time and again. So take a moment for yourself, create your own quality-time and surprise your taste buds with this delicious kefta lunch. Enjoy!
Preparation
Make kefta
mix the minced lamb with the chopped leaf parsley, a finely chopped red pepper and a generous amount of Oriental Boogie spices
roll sausages from the mixed minced meat and put them on a skewer so they can be easily fried
cook them on the BBQ or in the pan
Make the salad
mix together the grated kohlrabi and carots
add some peper, salt, olive oil an the juice of a lime
finish off with toasted almond flakes and some leaf parsley
Make the yoghurt-mint sauce
crush the garlic ans chop a large handful of fresh mint
mix the Greek yoghurt with the mint, garlic and juice of half a lime
add some pepper, salt, olive oil and a pinch of liquid honey of agave syrup
Finishing touch
Serve all of this in a wrap or pita bread. It's the kids favorites!
---
0 comments
---