629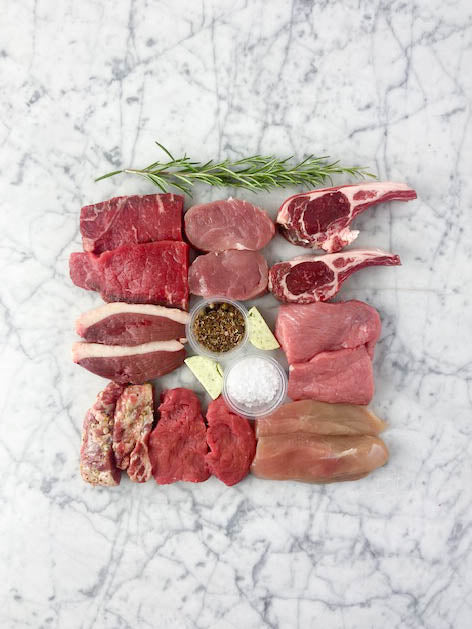 854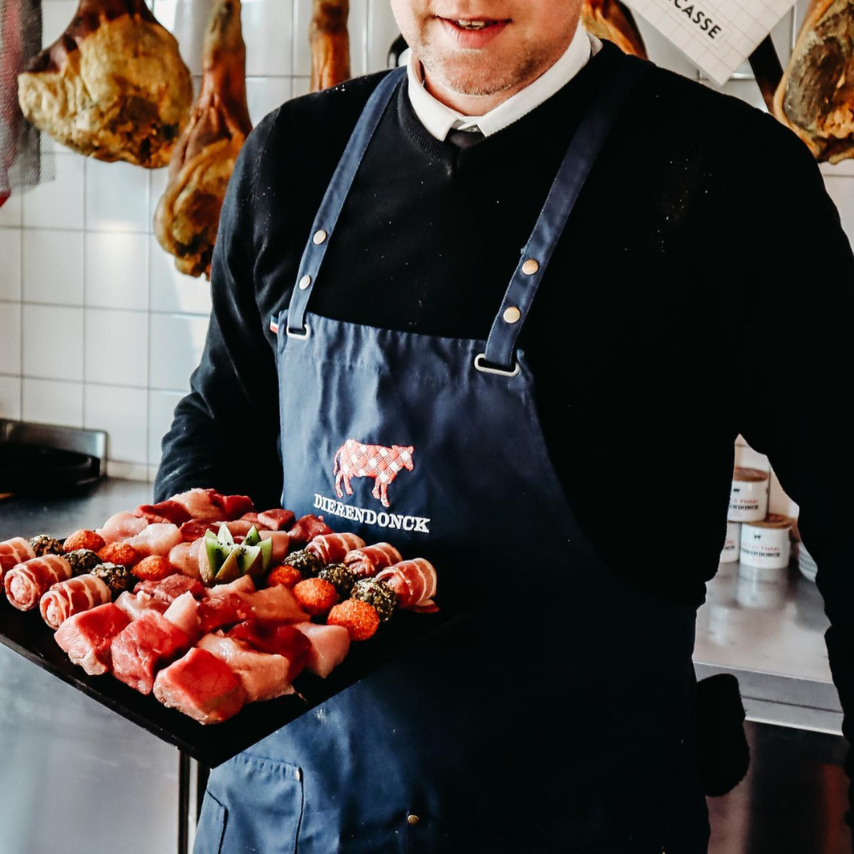 At Dierendonck, we love 'back to basics'. That is why we proudly present our pierrade: a culinary experience that goes back to the essence of tasty meat, prepared in a unique way.
Our selection of pure terroir meat of unseen quality is perfect for an ideal pierrade experience for 2 people. We provide you with an array of flavours, including extra steak of West Flemish Red, mature entrecôte of Simmental de Bavière, milk calf Limousin, chop of Texel lamb, pork tenderloin of Menapi pig, farmhouse chicken fillet of Licques and magret of duck from Challans.
Put the stone on the table, heat it slowly and enjoy the magic of frying your own meat in this natural, traditional way. It is an experience that stimulates the senses and creates an unforgettable meal.
Whether you are celebrating a special occasion or just having a cosy winter or party evening with friends, our pierrade offers a piece of culinary adventure in your own home.
Weight:
800gr
Only available for delivery on Friday and Saturday!
Complete your meal
This product is not available for delivery on Monday.
This product is not available for delivery on Tuesday.
This product is not available for delivery on Wednesday.
This product is not available for delivery on Thursday.
What our customer say
Klantenreviews
Schrijf een review
Stel een vraag
01-13-2023
Super lekker en royaal. Klein verbeteringspunt: toevoegen overzicht van de soorten vlees
Netjes op tijd geleverd. Mooi en keurig ingepakt. Super lekker vlees. Verbeteringspunt naar de toekomst: een overzicht toevoegen van de soorten vlees. De aanbieding was van de website gehaald dus konden we niet zien meer welk vlees er exact in was. Er was een extreem lekker stuk vlees, jammer dat we niet weten wat het was.
01-13-2023
allemaal zuiver, mals vlees. zeer lekker.
gemakkelijk te gebruiken. iedereen content over kwaliteit en gebruiksgemak.
filip w.

Belgium
01-12-2023
Topkwaliteit
Elk stuk vlees is buitengewoon lekker.
Lawrence V.

Belgium
12-31-2021
Rien à reprocher. Pas de critique
Les viandes étaient très bonnes.
Henri S.

Belgium
12-31-2021
Kwaliteit ten top, ook goede porties vlees, niet te klein.
Perfect in orde, vanaf bestelling tot levering.
Annemieke L.

Belgium
12-28-2021
Heel lekker
Met onze kinderen, die altijd een goede eetlust vertonen, was dit een schot in de roos. Lekker, vers, ruim voldoende, goede soorten vlees. Kortom, voor herhaling vatbaar
Van H.

Belgium