What you SWET is what you get!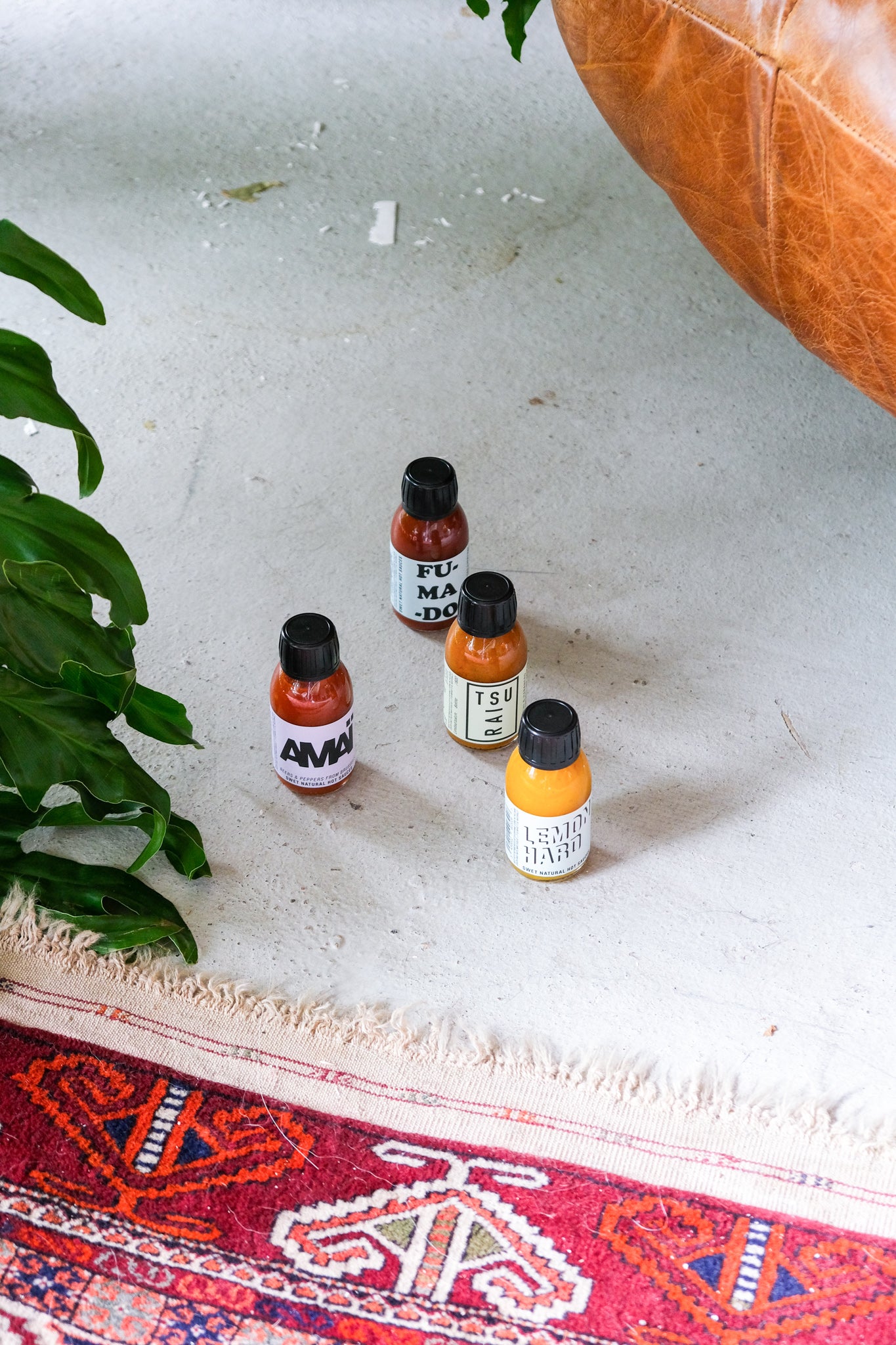 "What you Swet is what you get!" These are the words of our newest partner in making hot sauces: SWET.
SWET is a young company that grows most of its peppers in the heart of Brussels. The sauces are made with only natural and fresh products, so no powder, no flavor enhancers or color additives. Just pure, completely in line with our philosophy.
We briefly explain the 4 different flavors so you can make the best choice with each dish:
Lemon Hard - Organic lemon & habanero
A spicy sauce with very strong and fresh citrus aroma, combined with a nice and long lasting strength of yellow habanero peppers grown in Brussels. Only the best organic lemons are used for this versatile sauce. Organic lemons, yellow habanero, organic ginger, yellow peppers and local ugly pears.
Ideal with: all kinds of chicken dishes, carpaccio, summer salads, great for making vinaigrettes or fresh spicy mayo.
Tsurai - Kimchi & habanero
Kimchi hot sauce in collaboration with Umamido. A nice balance between the complexity of the fermentation, the sugars of the pears and the spiciness of the habaneros ensures that the character of the kimchi is still beautifully central. A tidal wave of flavor, ready to use on any table!
Ideal with: boiled meat, stew, pate, ramen with pork or beef
Amaï - Beers & Peppers from Brussels
The classic from the future. A very accessible hot sauce based on Brussels Habaneros, Brussels beer (La Meute from Brasserie La Source) and red peppers. This sauce lends itself to many dishes and is the passe partout of the range.
Ideal with: hamburgers, BBQ and basically everything!
Fumado - Smoked peppers everyday
A spicy sauce with a complex smoky flavor obtained from the best natural smoked peppers from Extremadura (Spain), in combination with Belgian red onions caramelized with brown sugar, habanero peppers grown in greenhouses on the roofs of Brussels without chemical agents, organic cider vinegar, fresh garlic and pepper from Sri Lanka. You can use this versatile sauce with any dish, as long as you are a fan of a smoky flavor.
Ideal with: BBQ, ribs, Fumayo: 3 parts mayonnaise and & 1 part Fumado.
---
0 comments
---