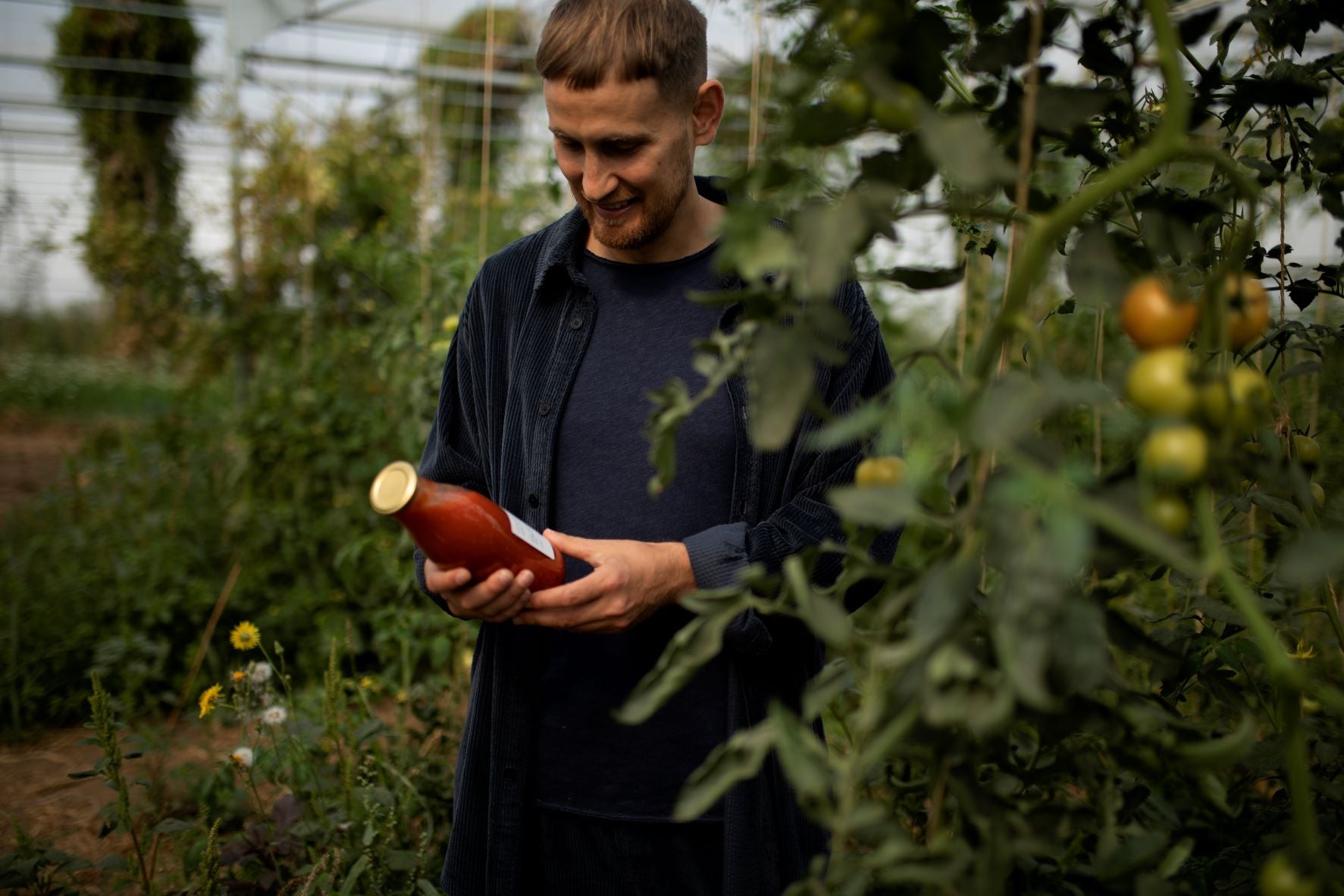 "Belgian tomatoes are damn tasty!" That's what Dries Delanote has been shouting from the rooftops for years, and to which Steven Desair and I can only agree. "ceci est passata" therefore fits perfectly within the philosophy I am so passionate about: an honest, pure and short chain product. Therefore, I gladly join forces with these 2 young Belgian entrepreneurs. With our heart for good and sustainable food, we want to bring an ode to the Belgian tomato and in the process show that things can be done differently.
"It is up to us, entrepreneurs within the food sector, to work towards a better world."
From the best tomatoes...
All year round, you can find something resembling a tomato in stores. But real sun-ripened tomatoes bursting with flavor and with the sweet juice running down your chin? They only grow when summer is at its most generous: starting now! That this is something that is possible even in Belgium, Dries Delanote proves in his organic farm Monde de Mille Couleurs. "I think it's important to eat what nature offers us. Our tomatoes get their strength from fertile soil and sunlight."
"If life gives you tomatoes, make passata."
The only problem with growing in accordance with nature, Dries explains, is that your harvest comes in waves. So what do you do when right during such a tomato explosion, at the height of summer, all your regular buyers are on vacation? It's simple: make passata!
...to the best passata...
Which is right up Steven Desair's alley, a social entrepreneur whose heart beats for ecological food. His company Eatmosphere challenges the food system with tasty experiments. One is ceci est passata, a tomato sauce that consists of just four ingredients: 100% organic tomatoes, salt, olive oil and basil. So pure that Michelin-starred chefs swear by it. At least so does Nicolas Decloedt of Humus x Hortense, who noted on a first bite that Belgian tomatoes are indeed "damn tasty. And the same goes for Willem Hiele.
'But few people know the taste of real passata,' said Steven Desair. 'We start from the best, sustainably grown tomatoes. Then we process them locally and artisanally, which keeps their flavor intact. In our passata you taste the landscape, the terroir. All the choices we make show that things can be done differently in our food system.'
... 'and on your plate!
When I summarize the words of my 2 fellow chefs I wind up with, indeed, "terroir, passion & craftmanship." It was instilled in me that nothing should go to waste, a sustainability philosophy that previously led me down the path of Steven. And since Dries was already supplying Carcasse, I knew I wanted to get behind ceci est passata.
From now on you will find it in all our establishments, as well as on the menu at Carcasse. After one taste, you will no longer settle for tomato sauce from the supermarket. This is convenience, but high quality. And quality is something you can taste.
ceci est passata is available in limited editions at all Dierendonck branches, through our webshop and at www.passata.be.
Want to cook with ceci est passata yourself? Get inspiration from my recipe for ragù with fennel.
---
0 comments
---